Welcome to the "Deep in the Heart of Texas" blog hop! Over 40 Texas teacher bloggers have joined together to share what we love about our state as well as ideas and freebies that we love. You will also have the opportunity to enter to win TpT products and/or TpT gift certificates by entering using the rafflecopters included in each post. Down at the bottom, you will see all of the blogs participating in the hop. Just click and you will be taken to their posts. We hope you love what you find. Happy Valentine's Day!
If you're new to my blog, I'm Lauren from Mrs. Thompson's Treasures! I grew up in Garland, Texas and have also spent some years overseas, but I am currently living in Waco! I homeschool our kids (ages 7, 4, 3, and 1) and most days I am just trying to keep everyone alive and myself sane!
I
have only lived in Waco for about 3 years now, but I certainly do love it! It has everything you would find in a big city, but with a sweet hometown feel! Here are some of my favorite things in Waco:
Built in 1906 - this was the first building dedicated to bottling Dr. Pepper!
People come from miles around to enjoy this family owned and operated BBQ restaurant!
Chip & JoJo!! I love their HGTV show Fixer Upper that takes place in Waco, and their shop, Magnolia, is only a mile down the road from my house!
I love activities that are educational, but also fun and engaging for students. Some of my favorite things to make are mystery pictures that help students practice different skills. I created some fun ones using dot markers that kids AND teachers love! I have sets for practicing numbers, letters, and sight words!
I have a set of free Dot Marker Mystery Pictures for you to try out with your students! If you don't have dot markers, you can use regular markers or crayons to color in the circles!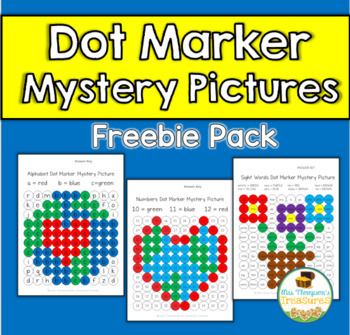 a Rafflecopter giveaway
a Rafflecopter giveaway
a Rafflecopter giveaway
a Rafflecopter giveaway
Click on the buttons below to visit some other awesome Texas bloggers!